24
Happy New Year !!!
Welcome again to another edition of Story Maverick's Rock Your Customer.  I thought I'd change up  the content I've been sharing in past letters to something a little different.   No, it's not going to be another letter about new year resolutions.  They certainly can provide value and can be thought provoking. Just not me.
What's with the 24?   You see.... I'm not referring to the hours in a day or a  popular TV show with a guy named Jack.  I  remembered a few days ago that January marks our birthday as a company.  We're 24 years old !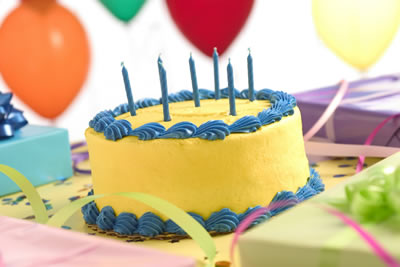 I'd Rather Share a Piece of Ice Cream Cake with You
Until we can ENJOY a piece of birthday cake together, I thought I'd share a few frames of our 24 year heritage, some learning or discoveries from a  journey as an entrepreneur, and finally a personal thought or two about the biz of biz as we begin 2011. 

24 Year's Ago
Lights, camera, action! The scene: A 1987  sales meeting, 400 people, somewhere in New Jersey.  A stir of enthusiasm is in the air. It's time to kick off the company's biggest sales contest of the year.  Each business district has to present it's case now referred to as "trash talking" to the audience.   As part of the East sales team we're psyched.  We've done something different than the usual Power Point presentations...We've produced a video featuring a trained police dog as a star, interview statements from the sales team, energetic music, and a great theme-....Keep Pushing.    The results: Standing Ovation, It steals the show. ........... The seeds for a video company are planted. 
Since the start up of Sunrise Productions  in January 1987, we have produced a diversity of video experiences including training  educational, marketing, documentaries, meeting, and broadcast.   Like that very first presentation, our goal has always been to produce an experience that stands out from the norm ......to deliver the unexpected.........to really connect emotionally to an audience. We love to say Touch a Heart and Reach a Mind !
 The video we produced over 24 years ago was a hit with the audience which was very gratifying,  but as important was the fact that we loved telling a story using video.  Additionally, starting a video production business seemed a good next step for a guy that always walked around with a still camera and loved photography.  We named the company Sunrise Video. 
The above plaque was presented to us in the late 90's by Jim Wojnovich , when I left Hunt Wesson Foods/ConAgra, to pursue a second career in video production.   It's a small piece of memorabilia that reminds us of our roots.

Jim Wojnovich was my mentor for the 19 years I spent working in the Food Industry.  Not only did he give me my first opportunity in the business world following graduate school,  but taught me about business and more importantly the art of managing and leading people. I am grateful that he saw some potential in a long haired graduate with a BS. Degree in History and a MS. degree in Guidence & Counseling, who had not taken one single business class during college. 


Jim Wojnovich
 

 A Thank You To Our Customers
Before I share some reflections,  on our Journey as a small business, I think it's important to say THANKS to all of our customers who have supported us.  Without customers there can be no business, a fact too many businesses don't think enough about.  A very Special THANKS to a company named THE FORT MILLER CO., INC .  (John Hedbring, Butch Marcelle and Peter Smith)  Fort Miller was our very first business customer way back in 1987 and I'm proud to say is still one of our loyal customers. 
On Location with Fort Miller in NYC

Reflections from a Journey
A few years ago while on a business trip to Colorado, I bought a framed poster called "The Art of Journeying."  The content was written by Terah Cox. I keep the poster in our production studio as it is a great reminder that running a business is really a journey.  The written content on the poster is meaningful and relevant to the trials and tribulations of running a business.  I'll use a few of Terah's words to share a few reflections on the last twenty four years.

"Let your feet follow your heart"

I love what I do !   Producing a video story or working with a customer on  customer experience design is personally rewarding,  and extremely enjoyable.  It's more than just the paycheck  for the services we provide.    Did you know that less than 28% of all Americans on truly engaged in their work, feel energized about their work, and look forward to it each day?  One of the best compliments we have received over the years is that we have a passion for our work.    "Love Mondays" is one of our core stated values.  It's part of our HEART.  Our Heart  I sure do hope you are one of that 28% !

"Know that in the sky of your heart, all destinations are reachable."

I'm sure that at some point in time you've read the statement. "Find Your Passion And You'll Find Success In Business."  Passion is about Emotions.  Having a passion for something you are trying to achieve in business connects directly to also believing that it is possible and  that you can make it happen.   I believe as many others that central to both is having a sense of purpose for your business beyond just the bottom line - How are you making a difference in the lives of others with your business.

So what does all this have to do with my journey? 

For the past six  years, I have been swimming up stream in a way, trying to change the business world in a couple of ways.
 
1. Developing inspirational Communications (video) by using a different mindset and methodology

2. Making life better for customers and employees while helping businesses develop new economic value through experiences they stage for customers and employees.

It hasn't been easy !  "Turning stumbling blocks into stepping stones" is easier said than done.  Aside from the natural resistance of people to change old ways of thinking,  breaking away from our established heritage as a video production company, had a financial impact to our bottom line. 


Here's the connection.  Having a passion for and believing in what we are going to accomplish- Having a greater sense of purpose for our business than just making money has made all the difference in the world.  It has and will continue to get us through the tough times every business faces.  Having a sense of purpose for your business has other ramifications both we'll leave that for another day.  I hope you can find some meaning here.  Time to move on to another reflection.

 "Don't be afraid to make an occasional leap of faith - - and if you have short legs, borrow some wings! " 

Our leap of faith as a company  took place sometime in 2004.  We decided that we needed to get different as a company.  Our search for differentiation led to a discovery of a new emerging business discipline called customer experience design.   It started simply by  reading a book called "The Experience Economy" , by Joe Pine & Jim Gilmore.  Since the reading of that book we have invested a substantial amount of time and financial resources in formal training and education,  National networking to learn and understand this new field.  Not only was it a leap of faith but also became a way of life.

Our investment in our future through learning not only made us better video producers but led to the transformation of our company into a customer experience design company.  

Borrowing some Wings !  I don't have short legs but i have certainly reached out to individuals with bigger  and more expansive wings than mine.   I love the statement "Nobody is as Smart as Everybody."  One of the most exciting parts of our Journey the past 24 years has been learning from others who's paths we've crossed.   I've learned, especially during my last six years of travel and national networking, that there are some incredibly talented and creative individuals out here willing to share their wings with you.  It's no big secret that collaboration is a key component for success in today's changed business world.   It starts by investing in personal relationships and realizing that "Nobody is as Smart as Everybody." 
An Investment in Future


"Find balance not only in standing still, but by moving with integrity and regard for yourself and others." 
 
Some time ago during a video interview with a bank president he made the statement that "In the end business is all about people."  I think he meant it, believed it and tries to walk the talk as a CEO. 

The ugly reality however is that most businesses do not make decisions based on "Regard For Others" -  their customers (people) or their employees. They say "It's just Business!"   What they are really saying is that the bottom line is more important than people.

The real bottom line is that the old ways thinking about creating value has resulted in an all time low level of TRUST by customers and employees in business.   What has been the bottom line loss of profit to businesses due to the loss of  trust ? 

"While you're busy getting to wherever you are going, turn around every so often to give whoever's behind you a hand."

One of the most gratifying and personally rewarding experiences of our journey has been our active involvement in community service.  Many of the productions we've done for the non-profits in our community have been our favorites.  We've been both  inspired and left in awe by telling the stories of  individuals who have given so much to those less fortunate.  It has also been our good fortune to meet so many wonderful people through our activities in  Rotary, Lions Club, and Leadership Saratoga.   They truly are the unsung heroes of this world. 
   
and finally.................

"Know that you can get to the next step from wherever you are." 

As I sit here writing this letter on January 1, 2011, I am giving a heck of alot of thoughts to my next steps as one of the founders of a business called Story Mavericks.   Throughout our 24 year journey as a business we have certainly have had our share successes, mixed with  disappointments, stumbling blocks and mistakes.  It has made me as an individual, and us as a company, who we are today.  Part of any business journey,  especially in today's uncertain economy, is the uncertainty of what new experiences the next steps will  lead to.  That's part of the fun of being an entrepreneur.   I can't wait !

In closing,
Thanks so much for visiting with us again. It means alot. My very best to you for an incredible 2011.  I hope our paths cross this year as our journey unfolds.  As Terah Cox says.  " Expect nothing, be ready for anything, and everything will be possible."

Bill Gibeault
Story Mavericks